KL's most popular areas for properties in 2020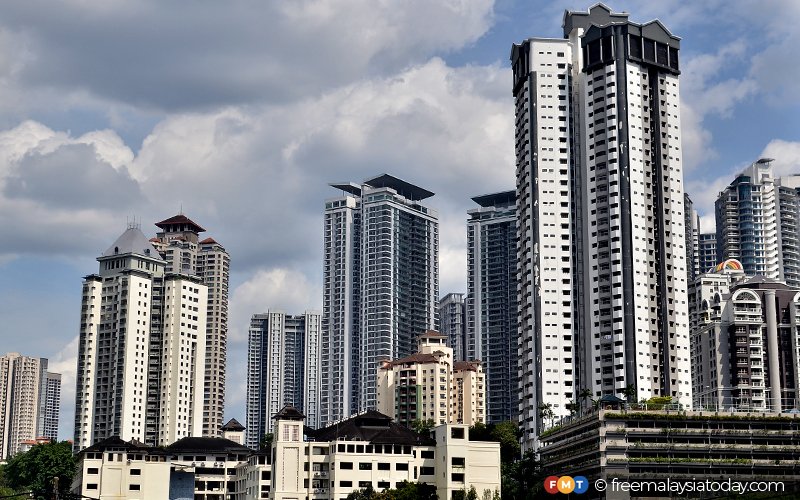 The property industry is showing signs of movement in 2021 as the Malaysian economy is trying to stir up activity amid all the lockdowns.
Here, we list down five of Kuala Lumpur's hottest locations in 2020 to help you understand where the property market is most ripe — in case you are thinking of investing.
1. Cheras
With a diverse set of demographics and a wide range of property types with a broader price spectrum, Cheras is the number one hotspot for Malaysian property buyers today.
From 2019 to 2020, Cheras properties have seen a rise of 5.11% in prices although the transaction volume has dropped to 74.41% lower than the previous year due to the pandemic.
While malls like MyTown and Sunway Velocity serve the high net worth residents of Malaysia, its transportation line, particularly the MRT line serves the daily office-goers and students who commute around the city.
Apart from that, ample amenities such as shops, education institutes, and nightlife hubs make for a decent and affordable living.
2. Setapak
Setapak is the second property magnet in Kuala Lumpur. As it is a fast-growing urban landscape, the area is expanding in terms of high-rise buildings as well as flats and apartments at various price ranges while still rooted in its rich Chinese heritage and history.
Setapak is connected to the city by railways and highways, so it is suitable for both public commuters and private car drivers. Also, recreational spots like Loke Yew Hill, National Zoo, and Titiwangsa Recreational Park make it an attractive location to unwind during the weekends.
From 2019 to 2020, the value of areas in Setapak has increased by only 1.98% in terms of price standing, with a median rate of RM 438,500 for an average-sized house. Its transaction volume also has decreased by 46.69% in 2020 due to the pandemic.
In short, properties here are available at a good negotiation price for property buyers today.
3. Old Klang Road
With proximity to Midvalley, Petaling Jaya, and Puchong, Old Klang Road is indeed a strategic location — if you don't mind the traffic during rush hour.
Though Old Klang Road has some new high-rise developments with the existing flats and apartments, most of the properties on the eastern side of Old Klang Road are freehold, while the western side is populated with leasehold properties.
Due to the pandemic, the transaction volume of properties in this area has fallen by 43.59% in 2020. As a result, you can own a house here at a median price of RM 420,000, 13.93% less than in the year 2019.
4. Mont Kiara
Mont Kiara is home to mostly expats and serves society's high net worth individuals. It has an excellent array of international schools and posh developments that cater to this specific market.
On top of that, its high-rise condominiums, semi-detached houses, serviced apartments, bungalows, and secured gated communities make it a highly sought-after location by high-income earners.
Despite the area being cut off from most public transportation, the Rapid KL buses offer an easy commute for city-goers who do not own a car.
The median price of Mont Kiara properties has dropped by 45.75% in 2020 compared to 2019 due to the pandemic's impact. Hence, you can get a house that was once priced at RM 1,030,000 in 2019 for RM 1,000,000 in 2020.
5. Bukit Jalil
Bukit Jalil is a modern-day suburb area with a proximity to Puchong. The area is populated largely by Chinese and Malay ethnic groups with a substantial amount of non-Malaysians.
The area has both landed properties and condominiums that serve the middle and upper middle-income earners.
With reputable shopping malls, cafes, and restaurants, Bukit Jalil is ripe for property investors — especially now — since its median price has not increased at all from the year 2019 to 2020.
It is suspected that the stagnant price is due to the pandemic, which caused the transaction volume of properties to drop by 49.16% from 2019 to 2020. So, if you are looking to invest in a property with a strategic location and a price benefit, Bukit Jalil is the place for you.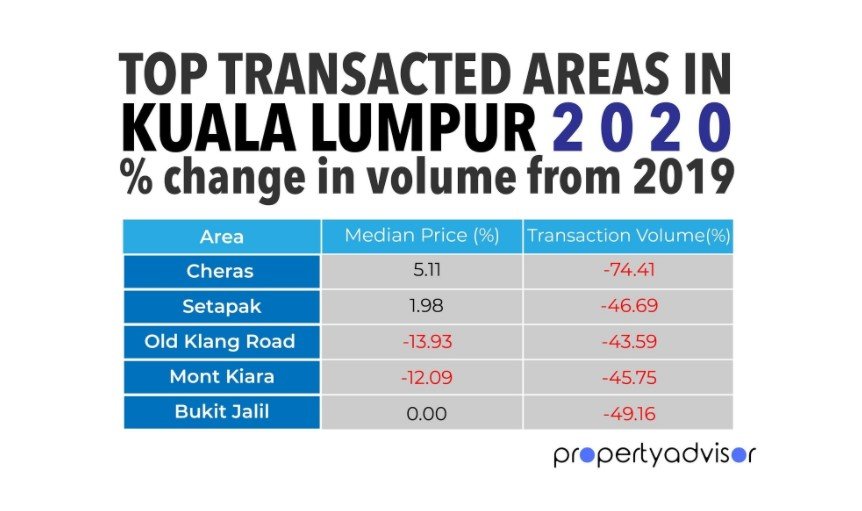 These five locations are excellent and strategic locations for home buyers today. If you buy a property now, you are more likely to get a good bargain, considering the country's economic and financial situation.
Plus, as the economy starts to recover, your property price will increase, giving you a nice profit margin.
Source: FMT News